Whether you're craving an indulgent cake, a refreshing sorbet, or anything in between, these vegan desserts are guaranteed to satisfy your sweet tooth.
These vegan desserts are here to prove that you don't need butter, eggs, or cream to create something that's sweet, rich, and decadent. Once you stock your pantry with a few simple ingredients, making knockout vegan desserts couldn't be easier. Keep coconut oil on hand to take the place of butter, start reaching for ground flaxseed instead of eggs, and invest in a bottle of pure maple syrup. You might be surprised to find that you don't miss the dairy or eggs one bit!
Below, you'll find my 30 best vegan desserts. I include plant-based twists on classic recipes as well as creative frozen treats, crisps, cakes, and more! No matter what you're craving or the occasion you're cooking for, you're guaranteed to find a sweet treat you love.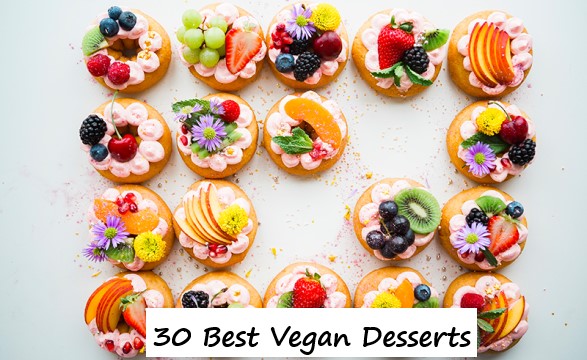 Vegan Cookies and Bars
Peanut Butter Chocolate Chip Cookie Bars
One of my all-time favorite vegan desserts! A sprinkle of flaky sea salt makes the nutty, chocolaty flavors in these no-bake cookie bars pop.
Vegan Peanut Butter Cookies
These are the best peanut butter cookies I've had, vegan or not! They have chewy middles, crumbly edges, and fantastic nutty flavor.
No Bake Cookies
Warning: these cookies are SUPER addictive and dangerously easy to make! With a handful of ingredients and 5 minutes of prep, they're chewy and rich, with a delicious peanut butter/chocolate flavor.
Tahini Almond Cookies
Pomegranate arils add juicy pops of sweetness to these chewy, warmly spiced cookies.
No-Bake Oatmeal Bites
It's hard to eat just one of these cookie dough bites, but who cares? They're filled with good-for-you ingredients like flax, almond butter, and oats.
Apple Oatmeal Cookies
Imagine the best oatmeal cookie you can think of. It's soft, spiced with cinnamon, and studded with fruit and nuts. These vegan apple cookies check every box! Trust me, you want to make them ASAP.
Pistachio Oat Squares
You only need 6 ingredients to make these crispy, toasty, lightly sweet treats. What are you waiting for?!
Oatmeal Breakfast Cookies
These cookies, made with oat flour, may be healthy enough for breakfast, but they're delicious enough for dessert too!
Vegan Date Brownies
These vegan brownies will give any regular brownie recipe a run for its money. Medjool dates and cashew butter give them a crave-worthy fudgy texture, while cocoa powder and chocolate chips infuse them with rich chocolate flavor.
Chilled Vegan Desserts
3-Ingredient Vegan Ice Cream
It's rich, decadent, and every bit as good as the real thing.
Avocado Chocolate Pudding Pops
Unlike the store bought pudding pops of my childhood, these frozen vegan desserts get their creamy texture from avocados and almond butter. They're fudgy, rich, and just the right amount of sweet.
Creamy Butternut Squash Pudding
The first time I made this pudding, I couldn't stop eating it out of the blender! Cinnamon, nutmeg, ginger, and maple syrup infuse it with warm, spiced flavor, and coconut cream makes it rich and velvety. It's 10 times easier than pumpkin pie, and if you ask me, it's 10 times better, too.
Vegan Raspberry Cheesecake
A tart raspberry layer, a creamy lemon layer, and a toasty walnut crust make this vegan dessert fresh, decadent, and so, so good.
Tart Cherry & Mint Sorbet
Serve this ultra-refreshing sorbet as soft serve straight from the blender, or freeze it for a few hours for a firmer texture. It'll be lightly creamy, tart/sweet, and downright delicious either way.
Vegan Pumpkin Pie Parfaits
Toasted pecans take the place of crust in these pie-inspired parfaits. Instead of traditional pie filling, I top the pecans with a rich, maple-sweetened pumpkin mousse. Finish them with a dollop of coconut whipped cream to take them over the top!
Creamy Vegan Lemon Bars
It couldn't be Love and Lemons without a lemon bar recipe, right? Thanks to maple syrup and Medjool dates, these creamy, decadent bars are refined-sugar free. I like to keep a stash in the freezer for a zingy afternoon pick-me-up!
Fruity Vegan Desserts
Easy Vegan Apple Crisp
If you ask me, fruit crisps are the best vegan dessert recipes. They're easy to toss together, and there's nothing more delicious than nutty crumble topping over soft, juicy fruit. This spiced apple crisp is one of my favorites. It tastes wonderful, and it'll make your kitchen smell amazing too!
Easy Peach Cobbler
Naturally sweet and brimming with peachy flavor, this cobbler is an essential late summer treat. Don't skip the (vegan) ice cream for serving!
Strawberry Crumble
A splash of balsamic vinegar adds a zingy pop of flavor to this crisp's sweet, juicy strawberry filling.
Peach Crisp
Use whatever summer fruit you have on hand in this easy crisp recipe! The nutty, oat-y topping is delectable over peaches, a mix of peaches and berries, or any combination of stone fruit.
Cake and Loaf Vegan Desserts
Chocolate Cake with Sweet Potato Frosting
If there's any recipe that lets you have your cake and eat it too, it's this one. It's moist, fudgy, and topped with luscious chocolate frosting, but wholesome ingredients are hiding inside it. I swap maple syrup for refined sugar and use a mix of white and whole wheat flour in the cake. Last but not least, I make the rich frosting with a secret veggie ingredient: sweet potato!
Chocolate Chip Zucchini Bread
I'd take a slice (or two) of this zucchini bread any day. It's moist, warmly spiced, and topped with a big sprinkle of chocolate chips. What's not to love?
Pumpkin Cake with Cream Cheese Frosting
I especially love this cake in the fall, but I wouldn't blame anyone for making it at another time of year. Pumpkin puree, coconut oil, and almond flour make it wonderfully moist, and cinnamon, cardamom, and nutmeg fill it with warm, spiced flavor. Enjoy it plain as a lightly sweet treat, or top it with frosting for a more decadent dessert.
Banana Bread
With its perfect moist texture and spiced banana flavor, you'd never guess that this banana bread is totally dairy- and egg-free! I like to fold in walnuts for crunch, but stirring in a handful of chocolate chips wouldn't be a bad move either.
Roll and Muffin Vegan Desserts
Cinnamon Rolls
Whether you call them breakfast or call them dessert, you have to try these cinnamon rolls! They're soft, gooey, and brimming with brown sugar and cinnamon.
Meyer Lemon Muffins
On their own, these ultra-moist lemon muffins are a fantastic breakfast or snack. But top them with a dollop of vegan cream cheese frosting, and they transform into a bright vegan dessert!
Chocolate Chip Banana Muffins
I have a soft spot for chocolate chip muffins, especially when they're as moist and flavorful as these are. To keep myself from eating four in one sitting, I bake a batch, enjoy one, and freeze the extras to have on hand for quick vegan desserts throughout the week.
Double Chocolate Zucchini Muffins
I have this recipe on repeat from the first day I see a zucchini at the farmers market until the last one disappears in the fall. Puffy, moist, and chocolaty, they're the perfect everyday treat.
More Favorite Vegan Recipes
If you love these vegan desserts, find over 85 delicious vegan dinner recipes in this website https://bombaysandwichco.com/ !