Pumpkin Pie is a must-have dessert for the holiday season. The sweet, spiced pumpkin custard filling is classic and delicious in a homemade (or store bought) pie crust served with a dollop of Vegan Whipped Cream.
This https://bombaysandwichco.com/'s recipe is ridiculously easy to make. All you have to do is blend the ingredients, pour, bake and enjoy!
How to make vegan pumpkin pie, step by step:
Add all pumpkin pie filling ingredients to a blender.
Blend until smooth.
Pour into pie crust lined pan.
Bake. Chill. Eat.
Special Tips & Substitutions:
Pie Crust: I used my Easy Vegan Pie Crust, which is the best option for a traditional, buttery pie crust. You may also use Gluten Free Pie Crust or a store bought vegan pie crust, I won't judge!
Coconut cream: Use coconut cream if you can, it will give you the most consistent results. If you can't find coconut cream, use full fat coconut milk from a can, and use as much of the white creamy part as you can. Do not substitute another milk, as the pie will be more pudding like than custard like in texture. Trust me, I've tested it.
Sugar: You may use coconut sugar instead of brown sugar if you want. For a less sweet filling, use half the amount called for. You may also use 1/2 cup of maple syrup if you'd like.
Cornstarch: May use tapioca starch or arrowroot if desired instead of cornstarch.
Make fun little pie crust leaves like I did! To make the pie crust leaves, make an extra pie crust. Roll it about 1/8th inch thick and cut into leaf shapes with mini-leaf cookie cutters. Bake on a pan for 10 minutes at 350 degrees F.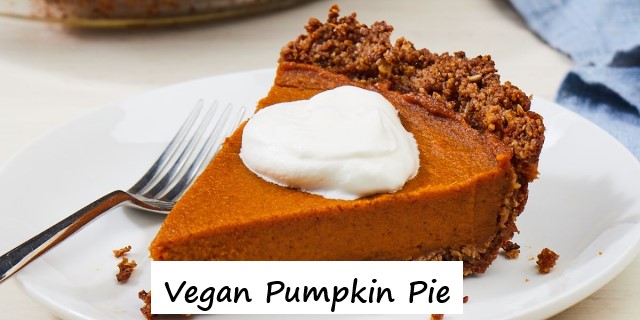 Vegan Pumpkin Pie
Ingredients
1 (15 ounce) can pumpkin puree
1 cup coconut cream*
1 cup brown sugar
1 teaspoon cinnamon
1 teaspoon ginger
1/2 teaspoon nutmeg
1/8 teaspoon cloves
1/2 teaspoon salt
3 tablespoons cornstarch
1 recipe Easy Vegan Pie Crust
Vegan Whipped Cream optional, for serving
Instructions
Preheat the oven to 350 degrees F. Prepare a pie crust in a pie plate.

Add the canned pumpkin, coconut cream, brown sugar, cinnamon, ginger, nutmeg, cloves, salt and cornstarch to a blender and blend until very smooth. You may also simply whisk it together in a bowl until smooth.

Pour the mixture into a 9-inch pan lined with a pie crust. May use a vegan store bought vegan pie crust, my Easy Vegan Pie Crust, or this Gluten Free Pie Crust. I don't pre-cook the pie crust. Spread the mixture evenly with a spatula.

Bake for 1 hour. If the crust starts to burn, cover the edges of the crust with aluminum foil or a pie shield after about 30 minutes of baking. The middle will still look jiggly; that's normal. Let cool at room temperature for 30 minutes, then cover and transfer to the refrigerator to chill for at least 4 hours or overnight.

Slice and serve with Vegan Whipped Cream or store bought non-dairy whipped topping, if desired. Enjoy!

For the Pie Crust Leaves: These are totally optional for decoration. Make or buy an extra pie crust, and roll out the dough about 1/8th inch thick. Using leaf cookie cutters, cut into shapes. Place on a baking sheet and bake for 10 minutes at 350 degrees F.
Notes
I recommend my Easy Vegan Pie Crust recipe for best results, but you can use a store bought vegan pie crust (Whole Foods carries one I know of) OR Gluten Free Pie Crust for a lighter option.
Don't substitute another milk for the full fat coconut cream or your pie filling won't thicken up the same way. If you can't find coconut cream, you can use cans of coconut milk but only use the rich, creamy, thick white part, not the liquid for best results. I tried it with another milk and it was more of a pudding than a custard pie.
May substitute coconut sugar for the brown sugar. If you don't want the pie so sweet, use 1/2 the amount of sugar, OR use 1/2 cup maple syrup instead of the brown sugar.
You can use arrowroot or tapioca starch for the cornstarch if needed.
Store leftover pumpkin pie loosely covered in the refrigerator for 3-4 days. To freeze, let the whole pie completely cool. Then wrap it tightly in several layers of plastic wrap, then even a layer of foil to protect it from freezer burn.
Nutrition
Serving: 
1
serving
 | 
Calories: 
270
kcal
 | 
Carbohydrates: 
41
g
 | 
Protein: 
2
g
 | 
Fat: 
12
g
 | 
Saturated Fat: 
3
g
 | 
Sodium: 
244
mg
 | 
Potassium: 
119
mg
 | 
Fiber: 
1
g
 | 
Sugar: 
27
g
 | 
Vitamin A: 
19
IU
 | 
Vitamin C: 
1
mg
 | 
Calcium: 
34
mg
 | 
Iron: 
2
mg