You've probably heard that India is great for lacto-vegetarian travelers, but did you know that there are also plenty of vegan Indian food items to choose from?​
The vegan movement is really taking off in India. But even before veganism was popular, there were already many vegan dishes in Indian cuisine, and even some vegan Indian desserts.
Today's post from this website https://bombaysandwichco.com/ , an Indian travel enthusiast who's here to share eight vegan Indian dishes that you definitely don't want to miss.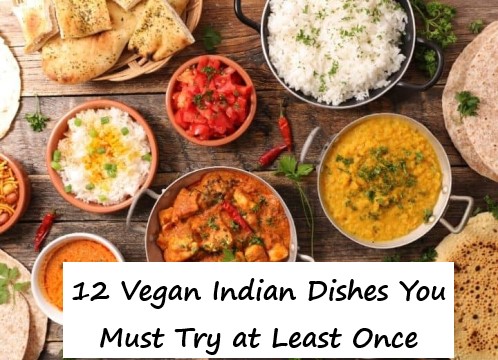 Vegan Indian Food: 12 Dishes You Must Try
1. Chana Masala
Chana masala is my favorite vegan Indian dish. Watch the video to learn all about it!
Chana masala is primarily a northern Indian dish, although it is also eaten as a breakfast food in the south of India.
Chana means "chickpea" and masala means "spice", so this dish is a chickpea curry made with tomatoes, garlic, ginger, onion, plenty of spices … and chickpeas, of course!
It's usually vegan by default. The only non-vegan ingredient that you might find in this dish is ghee – a type of clarified butter that is sometimes used as a cooking fat in India.
If that's the case, you can ask the restaurant staff to replace the ghee with a plant-based oil. Chana masala can be eaten with rice or with a bread such as chapati or naan. Or both!
2. Dal Chaawal
This is a common dish prepared in every household in India. Depending on the region, some families even prepare it three or four times a week.
Dal means "lentil" and chawal means "rice", so this is a dish of lentils and rice. Indians use different kinds of lentils for making different lentil soups.
I remember there used to be more than 10 types of lentils in my mom's kitchen. Each kind of soup uses a different combination of spices.
Thus, each of them differs in taste significantly. Indians love to eat lentil soup with rice and sometimes with roti (Indian flatbread). Interestingly, this dish is more popular in homes than in restaurants.
Often Indian families add a little bit of ghee or butter in the serving of lentil soup once it is ready. If you are traveling as a vegan, make sure you let your host or server know that you do not want ghee or butter.
In restaurants, you will probably find two kinds of lentil soups:
Dal Fry or Dal Tadka
This one is mostly prepared with yellow lentils (arhar or toor dal). It is possible that the restaurant staff might add butter or ghee to your serving without consulting you, so be sure to let them know you want a vegan meal.
And of course, to make this a complete dal chaawal (lentils and rice), just order rice as an accompaniment.
Dal Makhani
This is another popular lentil soup in India. However, the word "makhani" means butter, which is always an ingredient in this dish. For that reason, this type of lentil soup is not easily veganized.
You should either confirm with your server that the restaurant serves a vegan version of it or just order something else.
3. Kofta
Kofta actually means "meatball". However, in India, it is common to see vegetarian and vegan varieties of kofta.
Vegan versions often include kofta made with lentils or potatoes or mixed vegetables. Kofta is usually served with spicy curry or gravy. If you are familiar with Indian cuisine, then you probably know that there are different kinds of gravies in India.
Some gravies may contain butter or cream as an essential ingredient, so confirm with your server which gravy they serve with the kofta. If it's a creamy gravy, ask if they can swap it out for a vegan one.
4. Kashmiri Dum Aloo
This dum aloo is a traditional dish from Kashmir that is made with small deep-fried potatoes cooked slowly in a spicy gravy. Although the dish originates from the state of Kashmir, it is also very popular in the rest of India.
You will easily find it in most Indian restaurants, both in India and in other countries. When it is prepared at home, it is almost always vegan.
However, some restaurants serve it in a gravy that contains cream or curd (yogurt). Confirm with your server whether they can offer a vegan version of this dish.
5. Vegetable Biryani
The first dish on this list is for all the rice lovers out there! No matter where you are traveling in India, you're never far away from a sumptuous plate of vegetable biryani.This is the Indian version of vegetable fried rice.
The fragrant rice cooked with succulent vegetables and a heaping mix of aromatic spices like nutmeg, pepper mace, cloves, cinnamon, bay leaves, cardamom, coriander, and mint can make your senses go wild. And trust me, you'll end up craving more.
6. Rajma
Rajma is a popular vegan Indian dish made of red kidney beans cooked with many Indian whole spices in a thick gravy. It's usually served with roti (an Indian flatbread) and steaming hot rice. Even though the kidney bean is not of Indian origin, it's still an integral part of the typical diet in Northern India.
7. Masala Dosa
Made from fermented rice and dal (lentils), masala dosa is a super-thin, crispy, savory pancake wrapped around a mix of curried potatoes, onions and spices. It's popular mainly in South India, and also in neighboring Sri Lanka.
This scrumptious dish is served with chutney and sambar and is best suited for breakfast or lunch. The southern city of Bangalore is particularly famous for its many dosa joints, and it was also recently named India's most vegan-friendly city.
Just be aware that some chefs will use yogurt (curd) in the fermentation process when making the batter.
8. Hara Bhara Kabab
If you enjoy munching on snacks but still want to get all the nutrients your body needs, then Hara Bhara Kabab is the perfect snack food for you.
These little round patties look similar to falafel but are made from potatoes, green peas and spinach. They are a tasty alternative to the typical meat kabab.
9. Baingan Bharta
Baingan Bharta is a smoked eggplant curry, somewhat like a warm version of the baba ghanoush that is eaten as a cold dip in Middle Eastern countries.
Baingan Bharta is a simple combination of spices and herbs with chargrilled eggplant (known as "brinjals" in India). It is a flavorful dish that is easy to whip up and is healthy and tasty to boot.
10. Aloo Puri
The next vegan Indian food item on this list is a bit of a decadent treat but is worth every calorie. An essential part of North Indian cuisine, puri bhaji is a must-try dish for those who like their food on the spicy side. Puri refers to the delicious, crispy deep-fried, puffed bread that is served with a delectable spicy gravy made of aloo (potato).
If you're traveling by train (a quintessential Indian experience in itself), you'll find vendors selling Aloo Puri at almost every station. For hygiene reasons, though, it's best to stick to government-authorized vendors or the one that you get with your official IRCTC ticket.
11. Pakoras
When it comes to vegan Indian food, pakoras are undoubtedly the perfect snack! They are basically Indian fritters made of besan (chickpea flour) with added vegetables like potato, bell peppers, cabbage, and spices. This item is usually served with a delicious mint or coriander chutney.
12. Chole Bathure
A guaranteed crowd-pleasing vegan Indian food item, chole is enjoyed by people of all ages. This chickpea-based curry not only tastes good but is also packed with lots of healthy ingredients. The spicy, mouthwatering dish is accompanied by puris or bhatura (fried Indian bread).
These 12 vegan Indian food items should all be on your must-eat list while traveling in India. Happy travels!