There are many, many reasons why millions flood to San Francisco every year. The northern California city isn't short on beautiful views, interesting museums, thriving nightlife, or great theater. But one of the biggest reasons why people love the home of the Golden Gate Bridge has to be the city's food scene. Over the past few years, San Francisco has evolved into quite the foodie haven, and good news for vegans: it has an abundance of plant-based fare on offer. If you're heading there soon, here are some of our top vegan restaurant picks from https://bombaysandwichco.com/'s team, from Italian to sushi to raw. Honestly, good luck deciding. You're going to need it.
11 must-try vegan restaurants in San Francisco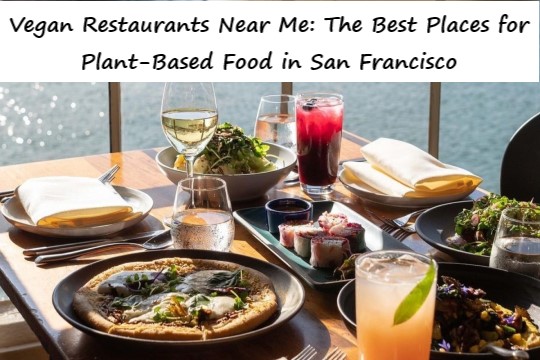 Wildseed
Founded by renowned San Francisco restaurateur Adriano Paganini, Wildseed specializes in top-quality, seasonal plant-based food. Every dish is led by California's fresh ingredients, but inspired by different cuisines from around the world. Right now, for example, you can grab a fragrant Spicy Yellow Curry, made with an array of vegetables and spices, including turmeric, squash, eggplant, and basil. And on the side, you can enjoy a taste of Belgium by sharing a portion of Belga Fries, complete with not one, but two types of aioli and curry ketchup.
Baia
Celebrity chef Matthew Kenney has a host of plant-based restaurants to his name, including Baia on San Francisco's Grove Street. If you're into comforting Italian fare, then this is upscale eatery is guaranteed to become your new go-to. The menu is complete with spicy ravioli, garlic-laden spaghetti, and indulgent pizza with Impossible Foods' Italian sausage. Buon appetito!
Mr. Charlie's
If you really love the taste of McDonald's but you'd rather not sacrifice any animals for your burger, then you need to try one of Mr.Charlie's Frowny Meals. Choose from the Not a Cheeseburger or the Impossible Hamburger, both of which come with plant-based nuggets, and, of course, fries and a drink.
Rad Radish
Whether you fancy a plate of vegan chicken and waffles, a carb-heavy pizza, or a fresh bowl of leafy green salad, Rad Radish on Hayes Street has the meal for you, be it breakfast, lunch, or dinner time. Think of its specialty as comfort food with a healthy, fresh, locally sourced, seasonal twist.
Shizen
Traditionally, sushi is made with fish and seafood, like squid, salmon, tuna, and eel. But as this vegan restaurant proves, animal products aren't necessary for making deliciously addictive Japanese cuisine. Shizen's menu includes everything from asparagus nigiri to California rolls made with shredded tofu and avocado. But that's not all. Its plant-based versions of ramen, miso soup, yuba salad, and specialty rolls—like Open Invitation featuring pumpkin tempura and Foxy Scarlet with sweet potato purée—are all must-tries.
Golden Era Vegan
Since the late 1990s, Golden Era Vegan has been supplying downtown San Francisco with delicious, plant-based dishes inspired by many countries in Asia, including Vietnam, India, China, and Thailand. Sample a little bit of everything by combining flavorful Pho with Spicy Thai Fried Rice, egg-less rolls, and curry wraps. You won't be leaving with an empty stomach, that is guaranteed.
Nourish Cafe
If you're craving some plant-based nourishment, then Nourish Cafe is the spot for you (the clue is in the name really). Expect to find a rich and diverse menu filled with whole food, organic ingredients, like quinoa, marinated tofu, housemade "tuna," and all the veggies under the sun. If you just want to stop by for a smoothie, then great news: there is an extensive menu ready and waiting (Baobab Banana Berry is not to be missed).
Gracias Madre
For those who love Mexican cuisine (and who doesn't?), then you can't leave San Francisco without stopping by Gracias Madre. The Mission Street spot, which is also open for brunch on weekends, offers everything from jackfruit carnitas tacos to ultra-filling enchiladas, loaded with potato and zucchini. And of course, everything has to be washed down with one of the eatery's signature margaritas.
VeganBurg
You can't go wrong with a big, juicy vegan burger, let's be honest. And, as the name has already given away, this is something that VeganBurg has in spades. From Avocado Beetroot to Tangy Tartar to Smoky BBQ, this chain (which also has a spot in Singapore) has a patty to suit everyone's taste. On the side, there are standard (yet delicious) options like Cheesy Fries and the Rainbow Salad, as well as more unique offerings, like BBQ Franks, Loaded Shroom Fries, and Sizzlin' Broccoli.
Judahlicious
If you've been unsure about raw vegan food in the past, then let Judalicious' fresh and flavorful menu convince you that it is 100 percent worth your time and your tastebuds. The Dark Side of the Shroom, for example, which features a portabella mushroom loaded with zucchini, kale, cauliflower, cashew creme, and more, proves that raw is far from boring. But that said, if you would really prefer something cooked, then Judahlicious also offers an extensive hot menu. Pro tip: the House Chili with toasted ciabatta is particularly satisfying.
Wholesome Bakery
Whether you're after a beautiful custom-tiered cake, a tasty morning bun, or an indulgent fudge brownie, Wholesome Bakery has got you covered. Everything at the bakery is totally plant-based, plus it prioritizes the use of sustainable ingredients, including fair trade chocolate, and all of its sweet treats are free of refined sugar.